Author:
Green Steps
Short summary:
If you want to learn something about birds of prey, biodiversity, Europe-wide bird breeding programs or the effects of road traffic on birds, and you are already bored by the stuffed animals in the Museum Natur, you should visit Peter Steinbichl's bird of prey station in St. Georgen.
If you want to learn something about birds of prey, biodiversity, Europe-wide bird breeding programs or the effects of road traffic on birds, and you are already bored by the stuffed animals in Natural History museums, you should visit Peter Steinbichl's bird of prey sanctuary in St. Georgen. A special kind of animal sanctuary awaits, which leaves with many questions about the role of humans on this planet and our responsibility towards other species. You will be enriched by a knowledgeable guided tour and up-close contact with nearly 60 - by nature shy and therefore difficult to see - birds of prey.

Mr. Steinbichl, now already 75 years old, has been running the St. Georgen site since 1986, currently together with his daughter. However, he tells us his passion for birds of prey began 50 years ago when he fell in love with the graceful animals during a visit to a castle and started to build up a falconery in Ochsenburg. In the meantime, Mr. Steinbichl counts the falconers to the books, thus like one calls criminal in this country. With the time he has recognized that falconry is a kind of animal cruelty, which forces the wild birds over hunger to perform tricks for their masters.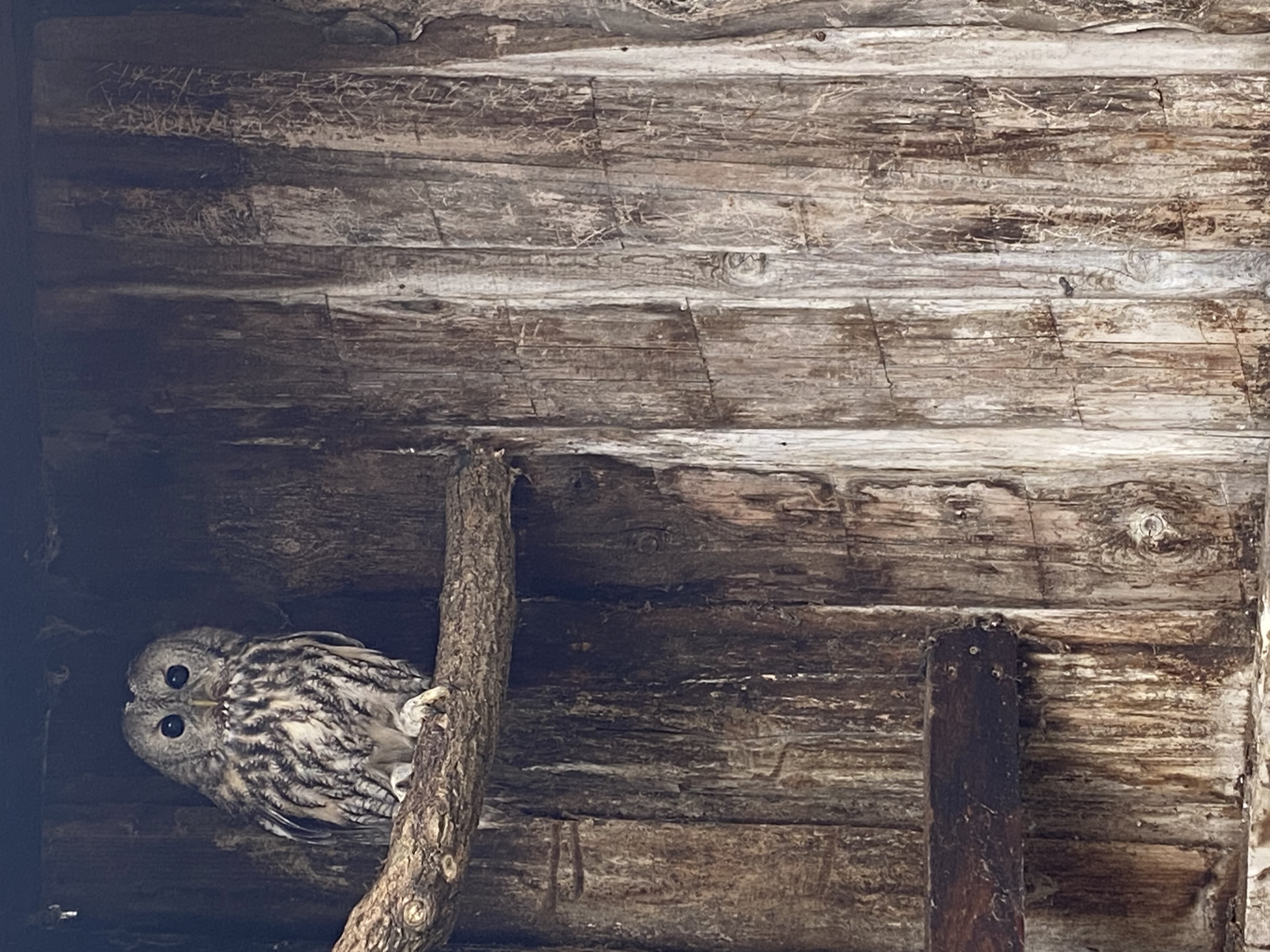 Mr. Steinbichl released his breeding birds into the wild and wanted to devote himself entirely to his second hobby, fishing. However, the people from the surrounding area began to bring him injured and abandoned animals. Thus, he gradually converted his enclosures: from prison to hospital, so to speak. Mr. Steinbichl adds with a smile: it starts with the first bird, and the rest is history. In 1986, the bird of prey sanctuary was moved to St. Georgen, where it occupies an area of about 5000m2 and houses not only birds of prey but also peacocks, graylag geese and ferrets.

Mr. Steinbichl could have also established a zoo, but the focus on birds of prey was more important to him. "You have to have a focus somewhere. You can't do everything." That's why the operator of the bird of prey sanctuary cannot take in many animals that he would want, but he refers them to other institutions. Likewise, birds of prey surrendered at the St. Pölten animal shelter are forwarded directly to St. Georgen. In the world of animal lovers, people know each other. Thus Austrian students, who completed an internship in Greece, gave Mr. Steinbichl 5 injured imperial eagles.

In the meantime, Mr. Steinbichl is supported by the WWF and the Vier Pfoten association. He cooperates with the veterinarian Dr. Frey, another private bird lover, who has been running a bird clinic near Gänserndorf since 1975 with more than 500 birds. This clinic has meanwhile been taken over by the Vier Pfoten Association, and with the University of Veterinary Medicine in Vienna, which is consulted in serious health cases. Furthermore, the bird of prey station in St. Georgen is integrated into a Europe-wide breeding program for black vultures, which is coordinated by a Swiss ornithologist from Mallorca.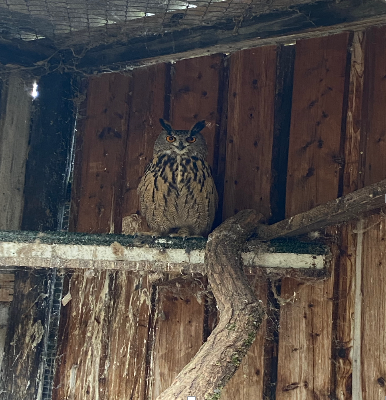 "You're lucky!" says Mr. Steinbichl with a tomboyish laugh as he finishes his introduction outside the sanctuary. "A pair of black vultures has just arrived from Tel Aviv." But we don't get to see them until the end of the tour. Before that, we encounter closer than ever, the nocturnal tawny owl, the Ural owl, the eagle owl, the smallest of all nocturnal, the little owl, and the long-eared owl.

Mr. Steinbichl has a touching story to tell about each enclosure and each bird. So touching that after our visit we decide to collect these stories in a school project. Maybe they will create a little more empathy for these earthlings whose habitat is getting smaller and smaller.

Mr. Steinbichl lets us ask questions unflinchingly and gives clear answers. Almost all the birds that land with him are traffic victims. How can that be, I want to know. I have been driving a car for almost 30 years and have never hit a bird. It's the trucks, Mr. Steinbichl explains, that create such a strong air suction that the bird can no longer control its flight and then either scrapes into another vehicle or surrounding objects, such as rock walls or trees. The bird then sits injured on branches for days, if not killed immediately, and only when it falls to the ground weakened it is found by pedestrians or hikers and brought to him.

If the injured animals were found earlier, they could be better helped, but many come with already scarred wounds or incorrectly fused bones and therefore can no longer survive in the wild. Overall, Mr. Steinbichl states, only a quarter of the patients survive their stay at the bird of prey sanctuary, and three quarters die from their injuries. The healed birds are released into the wild each fall after the corn has been brought in. This year they are at least three buzzards, one marsh harrier, and two little owls.

A large number of birds survive, but still find their final resting place with Mr. Steinbichl. This is tragic in a way, because all birds of prey are migratory birds that only come to Austria in the summer to breed, and move to warmer climes for the winter months. There is, for example, the pair of kestrels, which still breed at Mr. Steinbichl, but since each bird had to have a wing amputated, can no longer survive in the wild and must therefore remain forever in the bird of prey station. There is the imperial eagle, which is blind, and the golden eagle, which was kept in a zoo in Grünau for 20 years, and therefore, just like all the birds that come to Mr. Steinbichl from abandoned falconries, could not survive without his care.

In the two largest enclosures we are allowed to see at the end of the two-hour tour sit three black vultures. "I started with bearded vultures, but now that there are enough of them again, I'm helping to breed cinereous vultures." The two cinereous vultures transferred from Tel Aviv are still too restless, according to Mr. Steinbichl. They will be segregated to produce offspring that will be reintroduced into the wild. The female in the second enclosure has been at the veterinary university for a few days to be cured of gout. "She drank too much cider!" grins Mr. Steinbichl.


How a vulture can fall ill with gout is one of the many questions with which one leaves the bird of prey sanctuary again. But also, whether one would be available for such sacrificial species protection. 5kg of beef has to be fed to the vultures every day, and dozens of frozen chicks and mice are fed to the smaller birds. In any case, there is no lack of work, and we hope that our small contribution about the bird of prey sanctuary in St. Georgen will make someone think about supporting the Steinbichl family e.g. in a summer internship.

The bird of prey sanctuary is open to visitors by appointment from July to October. Both Mrs. Steinbichl and her father can be reached directly at the telephone numbers listed below. Schools and teachers, in particular who are interested in a guided tour that is pedagogically prepared for children and young people, can also contact Green Steps. We have prepared a guided tour on our app, which can be accessed at any time and covers each species of the Bird of Prey Sanctuary.

More information:

- Steinbichl Sylvia: 0680 1427321
- Steinbichl Peter: 0664 5843867
- Bird of pray station St. Georgen
- Owl and bird of prey station Haringsee
- Vultures Conservation Foundation
- WWF Austria