Author:
Sokolova Elena
Short summary:
There are different ways to practice nature stewardship. Our local team joined the regional nonprofit Lanius during summer in a few biotope maintenance events to learn about nature beyond city limits. Being a nature steward is a rewarding activity which should be made visible to others as a good example to follow. Our web app makes this now possible.
On the 16th of June, we're going for a walk Zellergraben with a member of a Lanius research community – Hannes Seehofer. The walk is one kilometer long and is a section of the Wachau World Heritage Trail.
The imposing loess walls on the two sides of the road reach a height of 12 meters. A loess is a type of sediment formed by the accumulation of wind-blown dust. It contains clay, sand and silt. They have vertical capillaries that allow the sediment to fracture and create vertical bluffs.
There were lizards - green females and males with blue throats - running around the walls.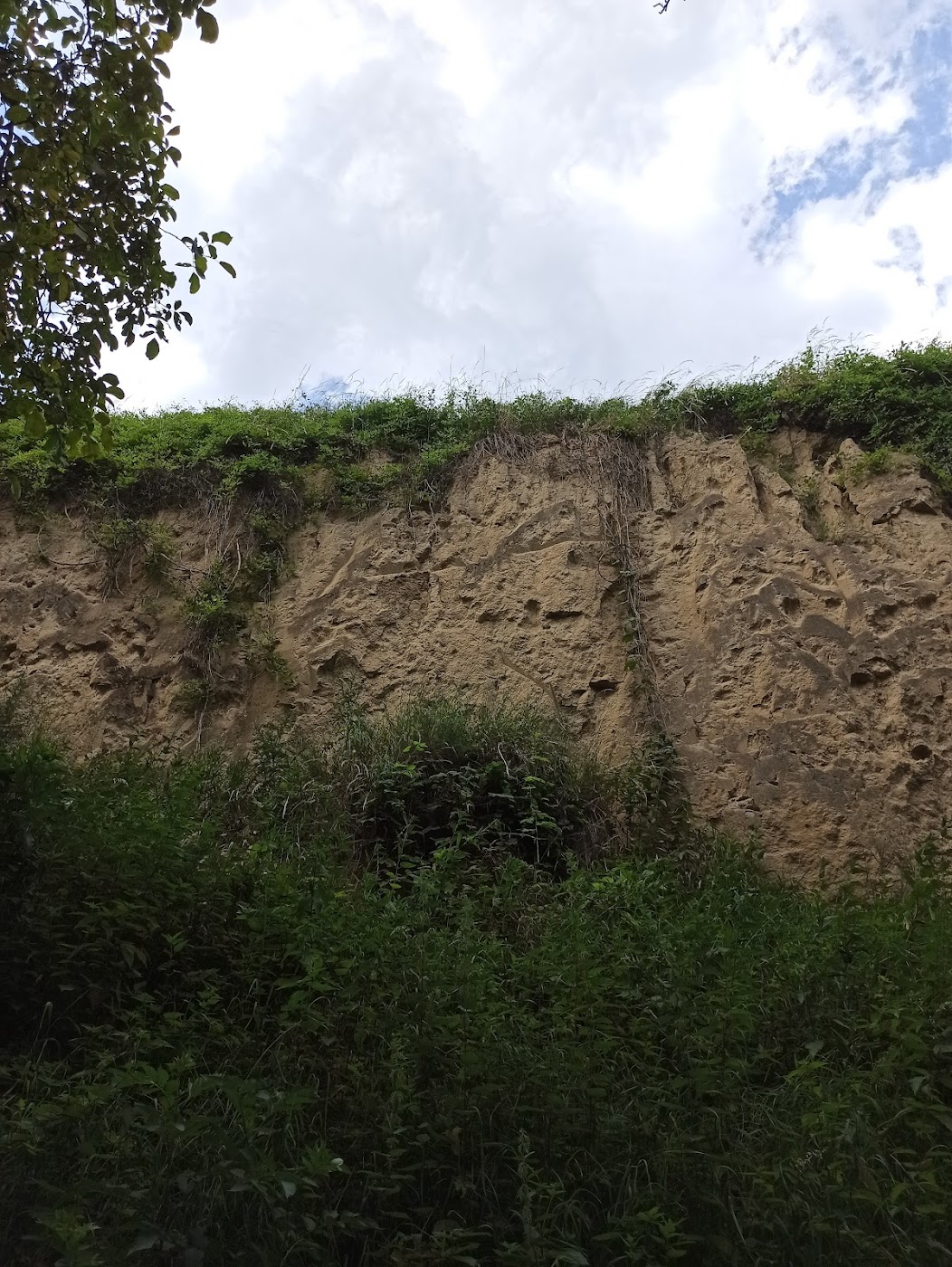 On twelve boards, visitors can find out about the formation of loess, stability, finds in the loess, soil properties, flora and fauna, the movement of glaciers during the ice ages, climate stratigraphy and the geological profile of the Zellergraben. On the first board it says «Loess and wine culture are like inseparable siblings in the east of Austria».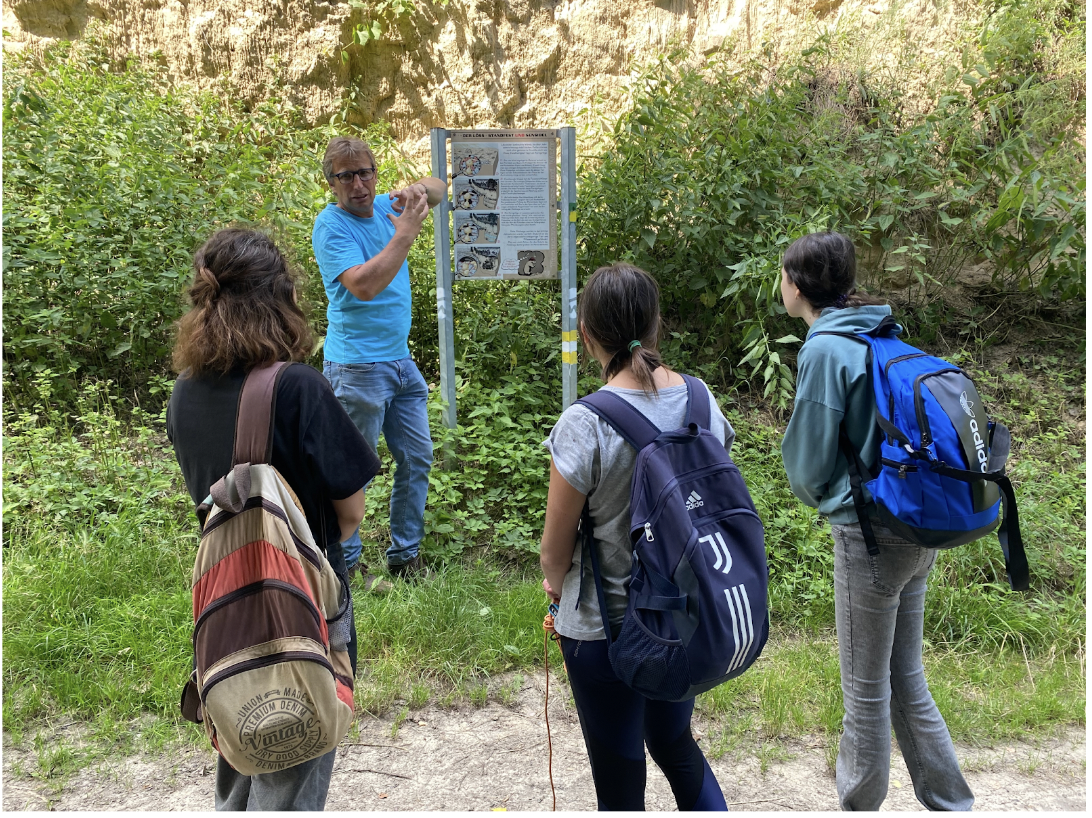 When the walls get behind us, Gloria immediately spots a common kestrel. He's hovering in the air, looking for prey. Gloria says that in Italy this flight is called "Spirito Santo" and we found it very poetic.
Then, we smell Artemisia absinthium, my favorite smell, and discussed how to make absinthe and Wermut out of it. We also look at other interesting plants along the road: Cynoglossum, Leopoldia comosa, dogwood, Eryngium campestre....
After a little more walking we finally spot the bee-eaters we were looking for as soon as we see the loess, their typical habitat. We stop briefly to admire their colourful plumage and return back quite excited.
After the walk, we sit in Hannes' small, dark bar, which is only open a few days a year on holidays. We drink grape juice and discuss our future plans. Hannes tells us about the biotops that need our help next month.

The first location is Siebenbründl. It is an area between the St. Pölten districts of Ratzersdorf and Pottenbrunn. It is characterized by multiple springs that emerge and merge into a stream within a short distance. Recognizing its ecological significance, the springs and a section of the stream were designated as a natural monument in 1993. The local municipality took action by acquiring the surrounding fields and transforming them into meadows that closely resemble their natural state. Since 1998, an annual maintenance operation has been implemented to ensure the preservation of this unique ecosystem. During this operation, the reeds along the banks are carefully cut, specifically aimed at safeguarding the habitats of orchids. This work is necessary to preserve the broad-leaved marsh orchid (Dactylorhiza majalis) and other species that are at risk.

July 1
It was a cloudy day and the meadow was brightly lit with poppies. We were cutting the grass along the stream and the cuttings fell into the water.
It was my first time holding a lawnmower and a rake and it seemed like a rather meditative activity. It was the first day, so we were mostly learning how to use the tools. The area was small and we finished quickly. I had time to climb a sprawling willow tree and admire the view.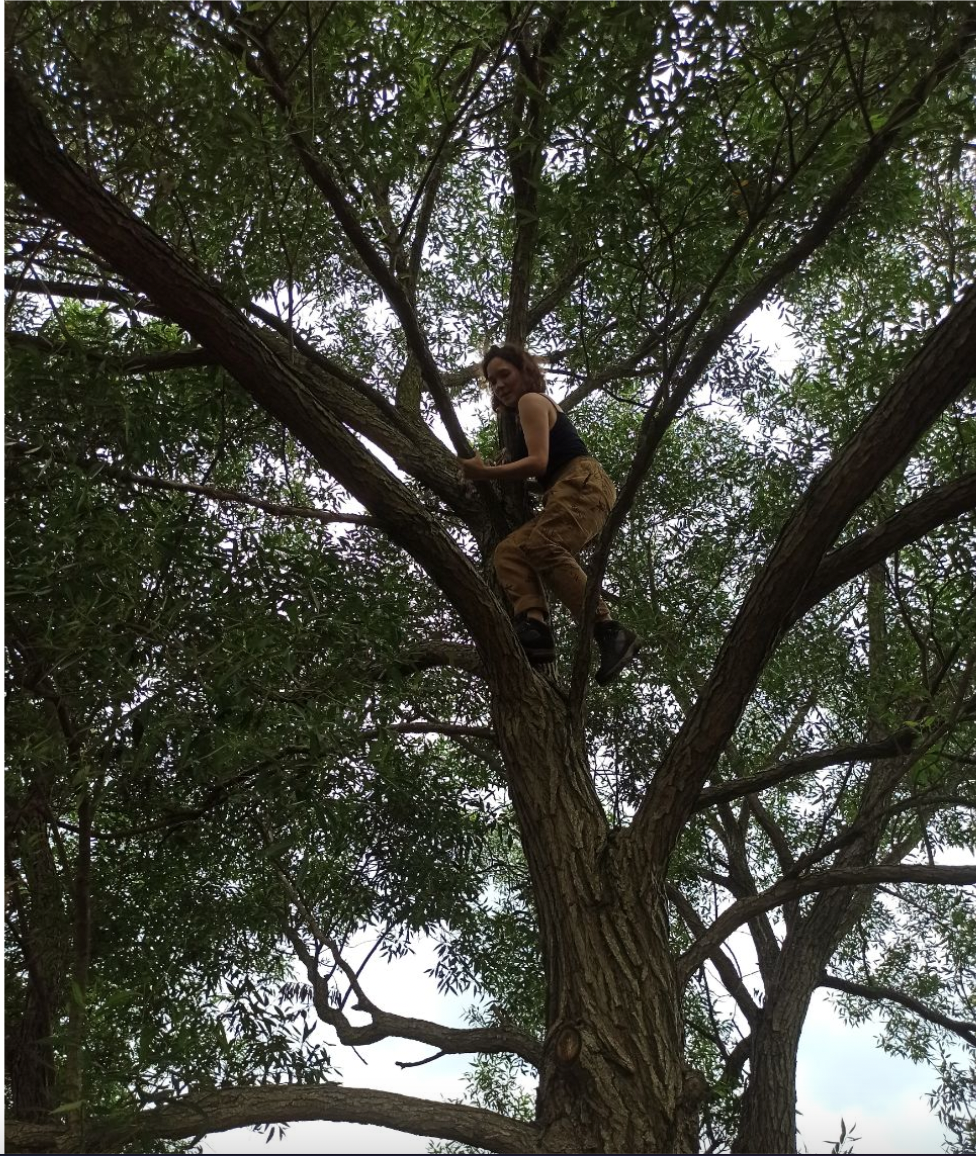 The next biotope where Lanius moves the grass every year is the dry grassland in Kupfertal. The area is located in the district of Krems, municipality of Rossatz-Arnsdorf, at the exit of Kupfertal (Dürrenbach) in a side valley (south-facing position) near Bacharnsdorf.
Juli 6
The place can only be reached on foot after a steep ascent. So, when we get to the place where we have to cut grass all day, we already feel tired.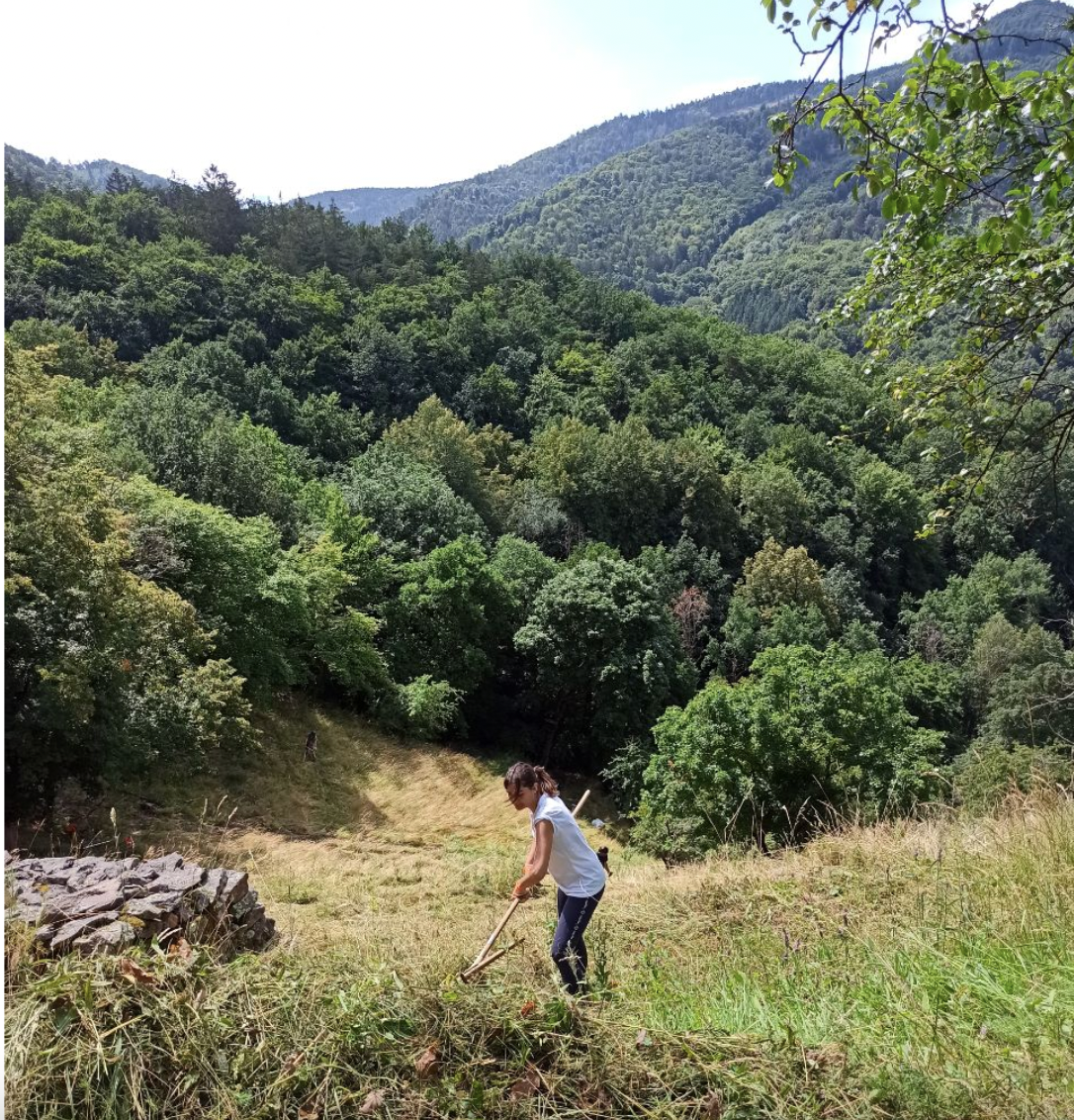 At the same time, the place is as impressively steep as the road to it. On the way we saw stone walls built on the slope. Stone walls are not typical of where I grew up in Russia. There, such structures are usually built of wood. That's why they remind me of the stone walls in Yorkshire, I saw in the pictures in James Herriot's book.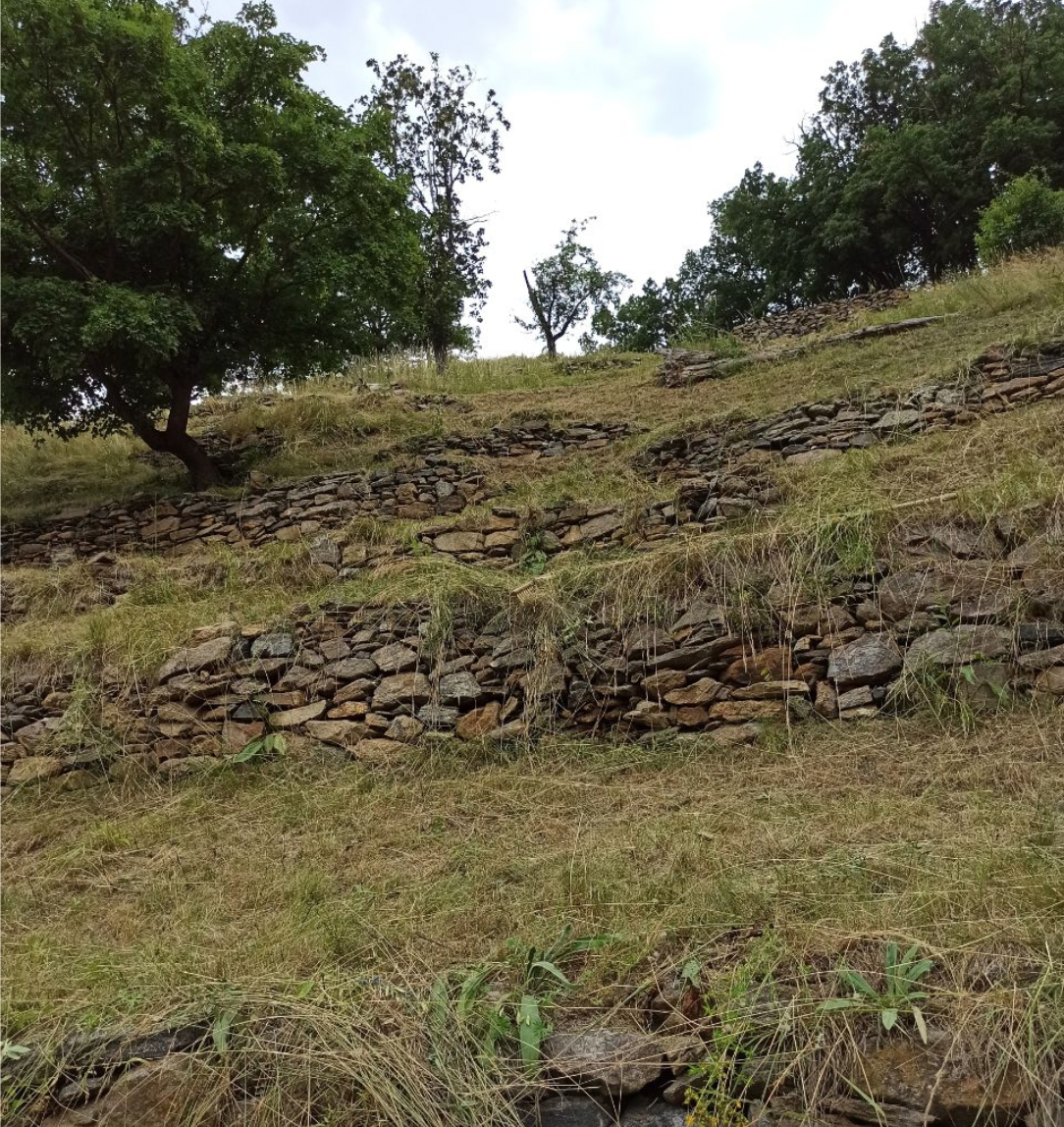 As we get ready to mow the grass on the hill, we also notice numerous dry stone walls. These walls were built by hand without any connecting material stone on stone. They give the Wachau hills an ancient and mysterious look and make viticulture on steep slopes possible. Many centuries ago, people built these walls to create terraces on the steep slopes of the Wachau. These walls prevented soil from sliding downhill and made it possible to cultivate wine in the region. This is work that requires a great deal of skill and experience on the part of the Wachau winegrowers. Dry stone walls provide the ideal habitat for plants and beneficial insects.
I have far less strength and skill than the ancient winegrowers, and by the middle of the day, I was completely exhausted. This day was the most challenging for all of us.
Anyway, there was a picturesque view from the top of the hill and beautiful Verbascum.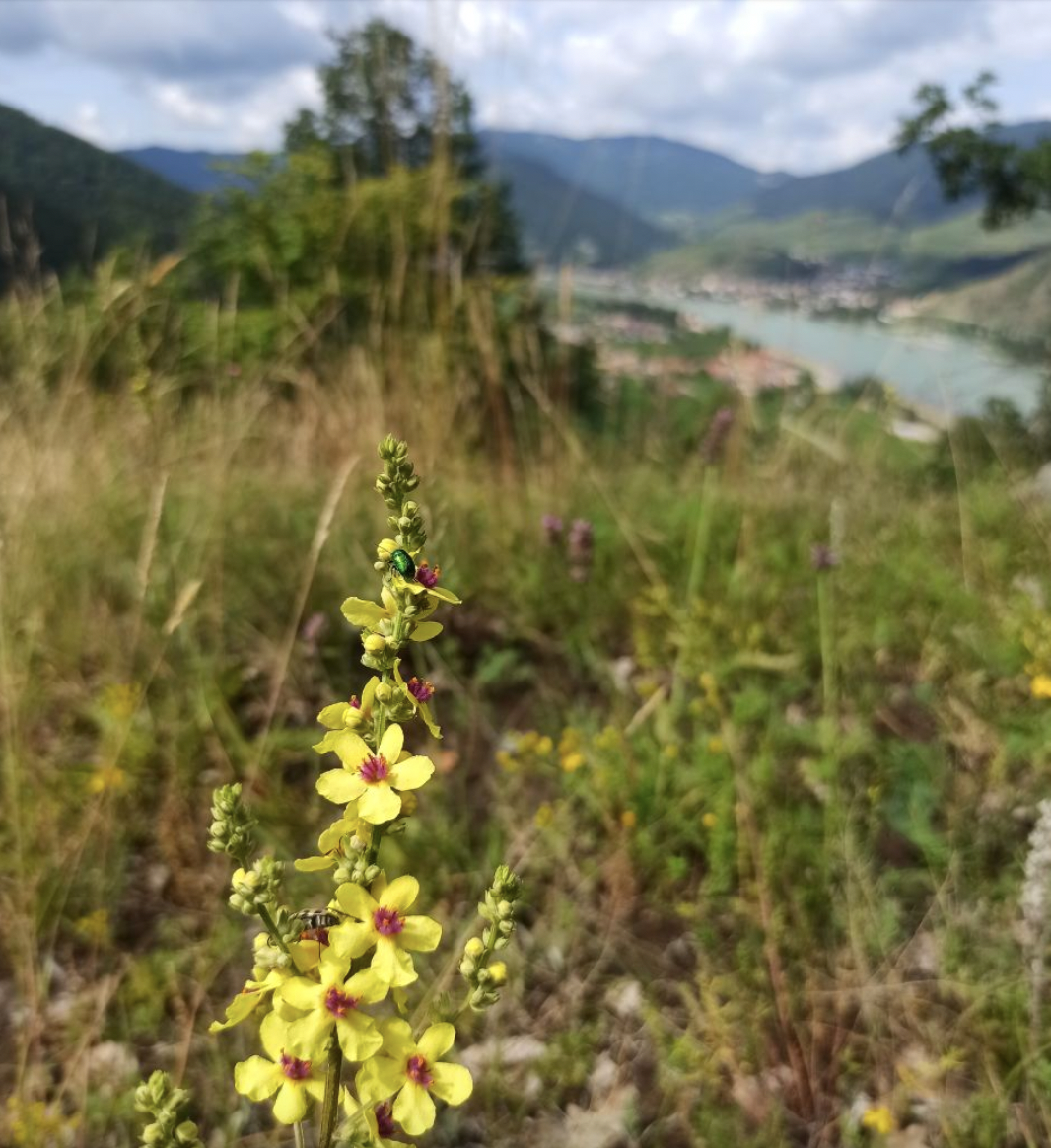 The life cycle of Verbascum lasts three years. In the first year, the plant remains small, and round. In the second year it shoots up and unfolds its yellow flowers. In the third year, they can still be seen as brown spikes in the landscape.
This plant contains a toxin that is dangerous to fish. The active fish-killing ingredient in Verbascum is a compound called rotenone. It is a pesticide, insecticide and a piscicide. It is less poisonous to humans but it has been implicated in causing symptoms of Parkinson's Disease in fish farmers. In Tajik, it's even called the fish killer.

The third location that we visited was Trauntal.
As part of a Lanius biotope maintenance, the dry grassland needs to be mowed here every second year.
July 13
This time we reach the new place not by car, but by train. Instead of admiring the view, we spend the whole journey looking at a half-dried leaf of a strange ash tree and arguing which species it belongs to.
That's why, to every person who comes to cut grass on the slope of Trauntal, we first ask if he is a specialist in American ash species.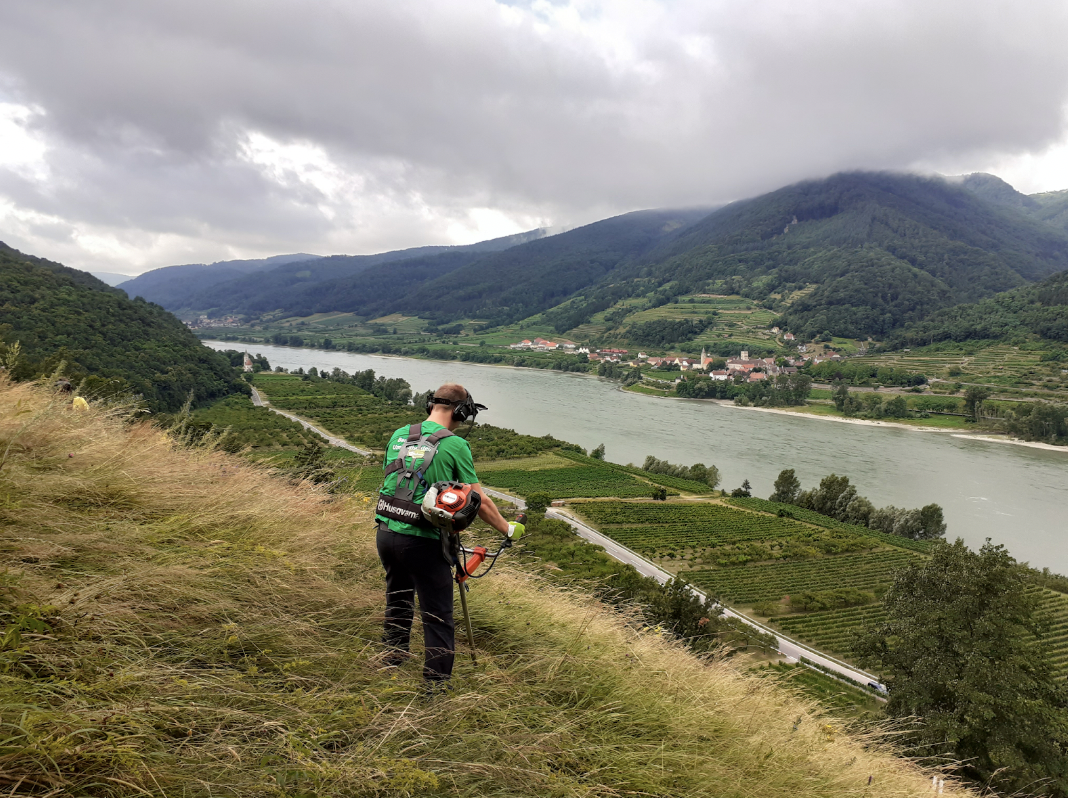 We don't find any specialists, but we have a good time there. The slope is steeper this time, but the area is smaller compared with last time. So we finish by lunchtime and enjoy a quiet meal and chat.

Next time we had two locations. The first one was a steppe place near St. Michael's church and the second one was a hidden meadow in the forest.
July 20
On the way up we see a hazelworm – a lizard that looks like a snake. It is very quiet and pretends to be dead. Some reptiles do it to prevent themselves from predators, it is called thanatosis. I saw it many times in grass snakes – they are really good actors. So it is easy to understand that the lizard just plays with us.
Cutting the grass with a view of a church instead of trees and hills is unusual for us. The church is down the hill where we are working, so we can see the roof from above. Hannes tells us a story about 7 rabbits on the top of this roof. In old times there was a big snowfall and the whole church was covered by snow. So people could see only the roof, like us now. Once they saw rabbits jumping there and in spring, when the snow melted, they made rabbits out of stone in memory of this hard snowy winter.
7 rabbits play catching up game on the top of the roof while we are cutting grass.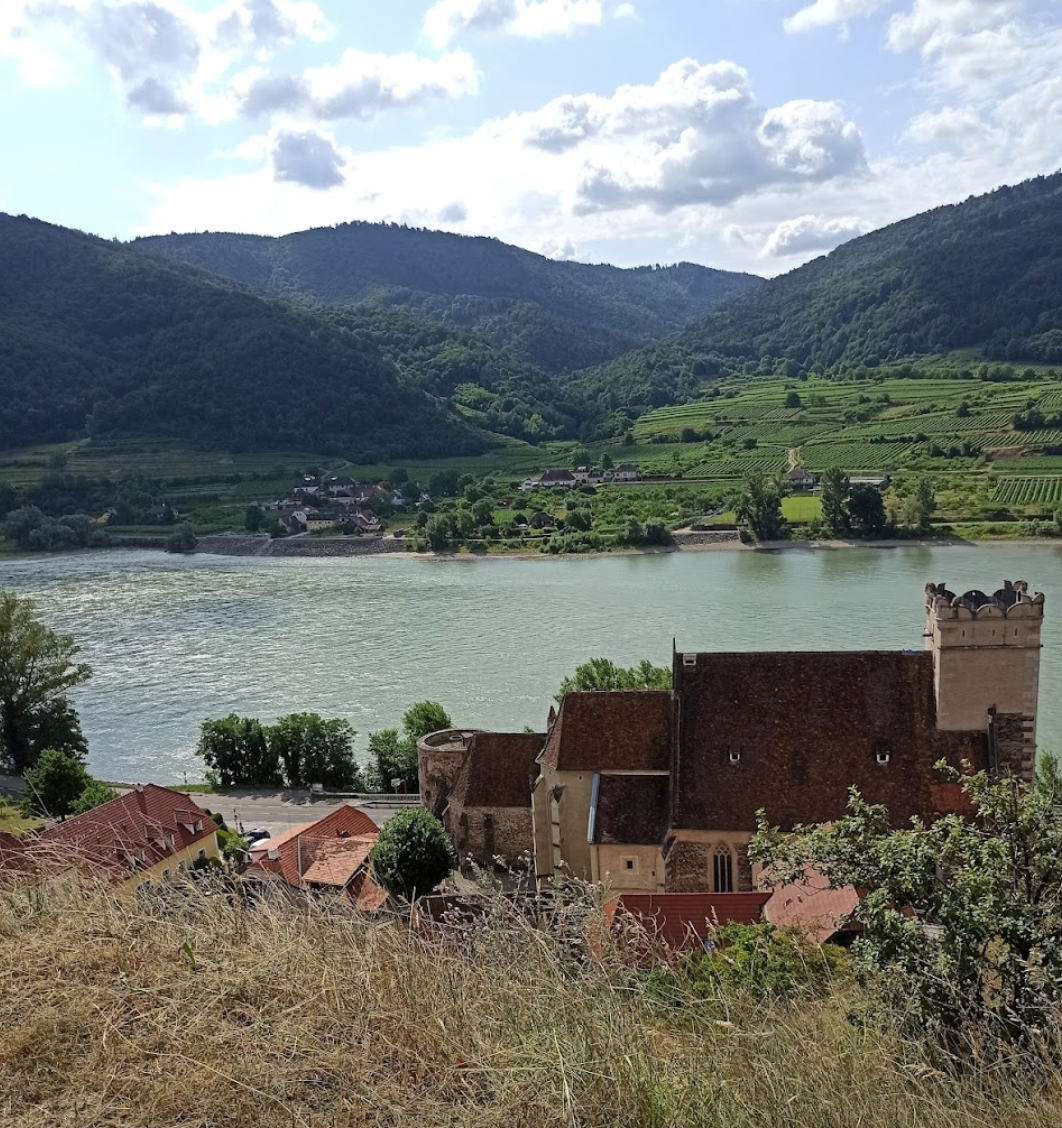 This location is very small so we finish it before lunch.
On the way down turns out that the lizard that was pretending to be dead is still lying in the same place…So we realize that it is truly an incredible performer…
After lunch, we go to the second location.
The hidden meadow is less sunny, more wet but also very beautiful. It is surrounded by coniferous trees. This meadow needs to be cut once a year otherwise orchids will not grow there.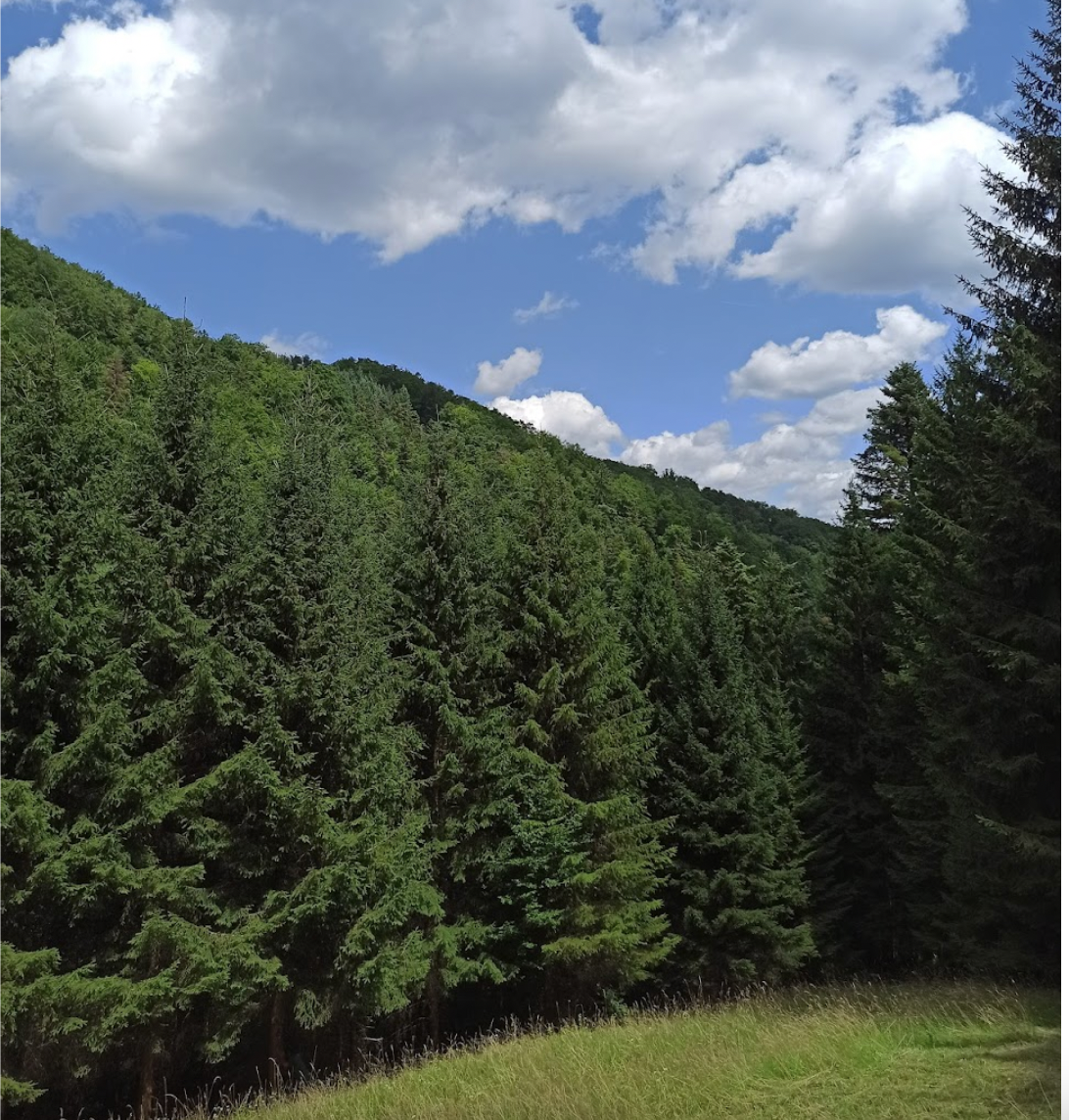 It was a very interesting month with Lanius! We visited beautiful places, learned new skills, and met interesting people. We are looking forward to new adventures with Lanius!

If you are interested in creating events to maintain and learn about biotopes or nature monuments then try our webapp. We have developed over summer a new functionality which enables you to create best practices connected to local animal and plant species. On top of this, you can visualize time invested by volunteers.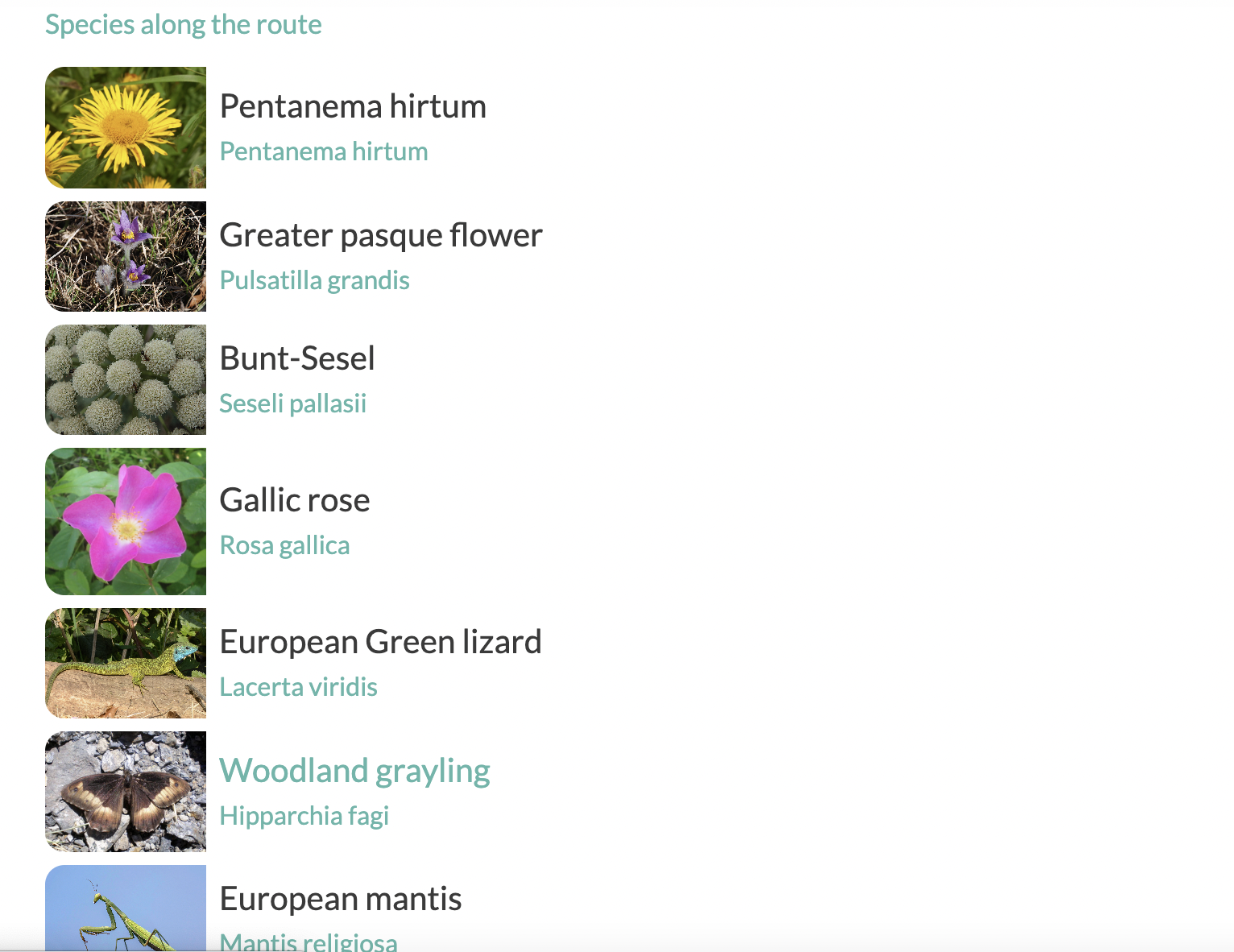 Reach out to us to scale your organization's impact. We need new solutions to accelerate nature connection and biodiversity protection.