Author:
Green Steps
Short summary:
The ChangeX supports our environmental education project Big Friendly Giants in Austria with EUR 10.000 and enables our small team's mission to connect children with nature. Learn in this newsfeed what ChangeX is about and how we run our Big Friendly Giants project with local kids.
What is ChangeX about? Its a Bill Gates sponsored initiative to scale good ideas in communities. Selected projects receive funding and a platform to share impact. We have submitted the Big Friendly Giants projects and were selected with eight other Austrian initiatives to receive each EUR 10.000,- --- really grateful for this tail wind!

Watch this video to understand other projects funded by ChangeX: https://www.youtube.com/@ChangeXHQ

Check out and join our ChangeX project for updates on our activities: https://www.changex.org/at/project/big-friendly-giants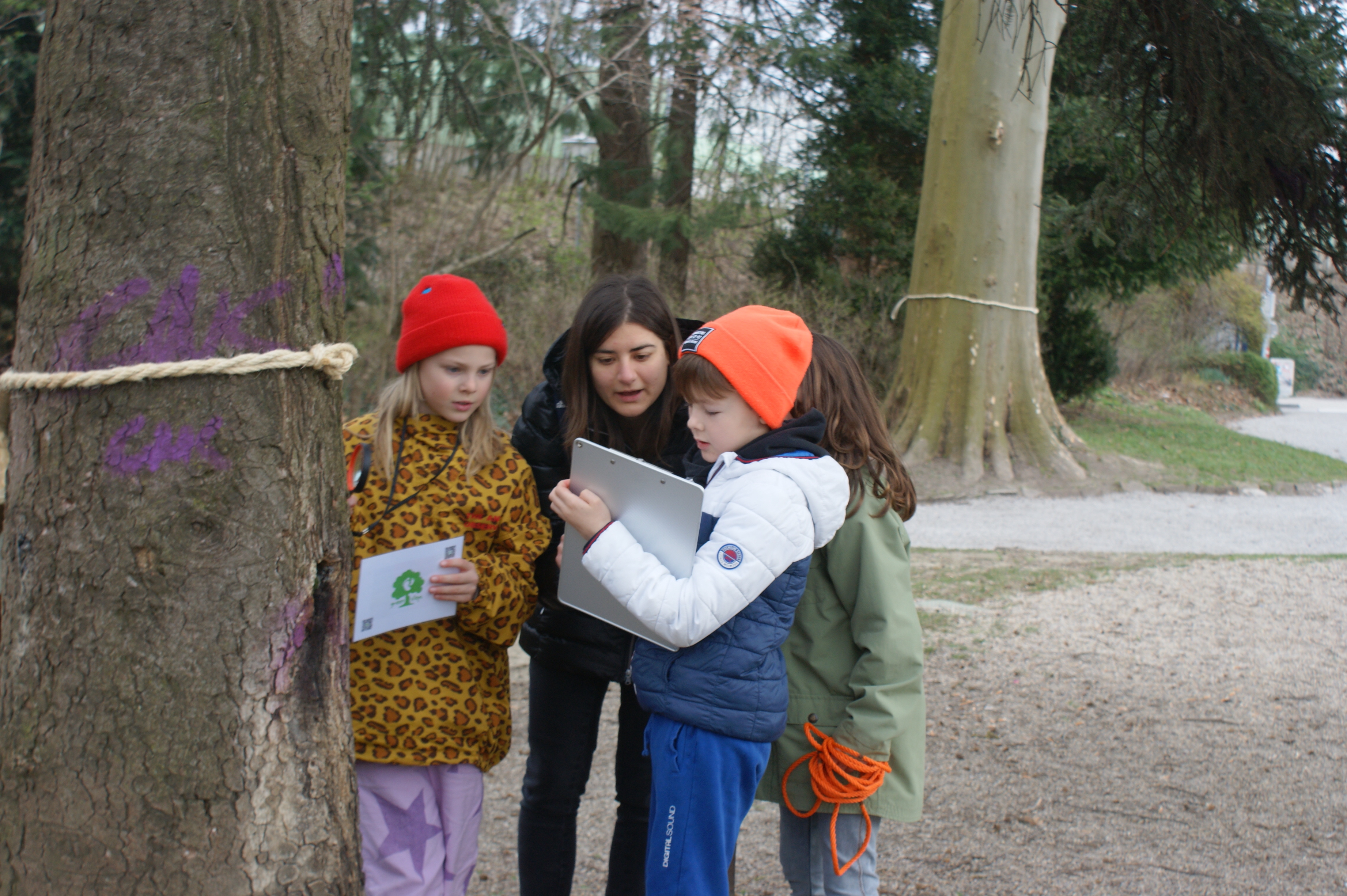 Transforming the experience and connection to nature in urban spaces is essential to finding a solution to the climate crisis. 75% of the EU population lives in cities, even though they make up only 4% of the land mass. Cities are responsible for more than 70% of global CO2 emissions. Our pilot project in St. Pölten tries to transfer the concept of national or nature parks to urban and suburban spaces by linking official natural monuments and trees over 100 years old in routes that let the local population - especially children and young people - experience their home from a new perspective and highlight nature rather than culture as a common basis of life.

The overall learning objective is to understand ecosystems of different dimensions, which cannot be achieved in the classroom but only through repeated exposure to the habitat. The project promotes a gradual experience and recognition of zones surrounding the home, school or place of work, thus creating an environmental responsibility related to a concrete space, which is reflected in the app designed for the project territorially through "stewardship" as well as individually through the role of the "guardian".

The Green Steps team has been studying the parks and green spaces of the city of St. Pölten since autumn 2020 and has planned a mobile campus consisting of 20+ routes. Each route can be started in a traffic-friendly way from the main station and from additional starting points that can be planned as desired. 12 routes are grouped in the category "Plants & Friends", which are focused on children aged 6-12 years. Another 12 routes are grouped in the category "Big Friendly Giants", which are aimed at people older than 12 years.

The formats differ both in the length of the routes and in the educational methods used. While Plants & Friends routes must be led by a nature guide, Big Friendly Giant routes can also be followed independently. In both formats, cooperative and transgenerational learning is intended, but Plants & Friends is built on playful experiences and Big Friendly Giants on citizen science.

This project attempts to establish a post-industrial and post-national educational focus. It thus turns away from the classical educational canon of the industrial revolution and places nature as the basis of our (super)life above (but not against) culture. Empathy towards the planet, fellow human beings and the self becomes a compulsory experience, while the dominant focus of prevailing education systems on STEM skills and competition recedes into the background. In the project implementation, transgenerational and cooperative learning takes place at the interface of nature and culture.

The educational goal of both formats is to create bioregional identities. Bioregional identities create a new concept of home, which is not anchored in different cultures but in common nature. Nature is highlighted here in the form of old trees as the basis for culture. Large trees, i.e. Big Friendly Giants, provide comprehensive but easily overlooked ecosystem services and can be described as key stone specimens that not only provide the basis of life for often hundreds of dependent species, but in their totality represent clearly identifiable foundations of human survival. In this respect, increased respect for Big Friendly Giants is an opportunity to address climate change and the biodiversity crisis, while decreased protection must be equated with the deprivation of our livelihoods.

A strong bioregional identity leads to a better understanding of the local ecosystem, deep empathy for the environment, and responsibility for the planet. Fellow citizens, regardless of their denominational or ethnic background, can be permanently integrated through an engagement with nature, while children sharpen their senses for changes in the environment at a young age through continuous exposure to the changing conditions along these routes. Furthermore, the Mobile Campus opens a door to overcome the "tragedy of the commons" and to scale the so-called "overview effect".